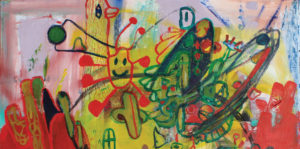 Jon Pearson is an artist from Des Moines Iowa who has lived in New Mexico for the last two years. His work recently has explored the dreamy terrains of the subconscious. Through recent solo shows such as Dream Chatter and Sandbox Therapy his visual work has developed to include abstracted landscapes derived from high desert mountain hikes and incorporates dream imagery and images from the subconscious mind. His recent body of work Theta Scapes is made in such a way to allow the imagination to implant in each painting a series of discoveries. Through layers and detail and continued viewing of each piece a narrative can be derived and related back to the title of each work.
Reception: Friday, May 11th, 2018, 5-7pm | Exhibition: April 30 – June 8
Exhibition may be viewed during the reception, Outpost performances, box office hours, (M-F 2-5:30pm), and by appointment.
THIS IS A FREE EVENT!