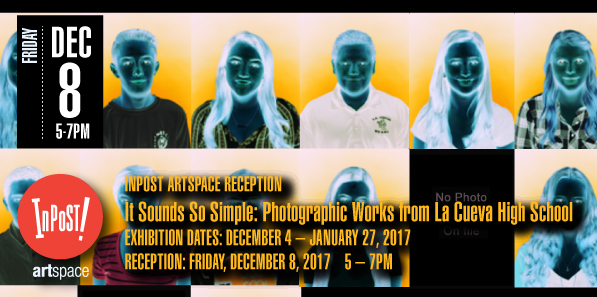 Exhibition Dates: December 4 – January 27, 2017
Reception: Friday, December 8, 2017    5 – 7pm (First Friday ARTScrawl)
It Sounds So Simple features the photographic work of dedicated students from Albuquerque Public School's La Cueva High School.  Students are presenting unique artworks in response to an audio soundbite with the phrase "It Sounds So Simple."  The artists are all La Cueva juniors and seniors, and have studied photography for two to four years.
Works will include analog, digital, and alternative-process photography. This collaborative exhibit will highlight the love for image-making fostered under the tutelage of Tamara Zibners, UNM Photography MFA graduate and La Cueva photo teacher.
Exhibiting Artists: Maged Alaini, Emma Allen, Grace Bernhart, Josh Dekleva, Ethan Johnson, Zachary Marshall, Sofia Palacios, Shaun Paques, Sophia Pedroncelli, Ava Pressley, Neha Rajput, Ariana Santistevan, Hannah Schum, Bronwyn Scott, and Reece Wigginsal.
Exhibition may be viewed during the reception, Outpost performances, box office hours, (M-F 2-5:30pm), and by appointment.