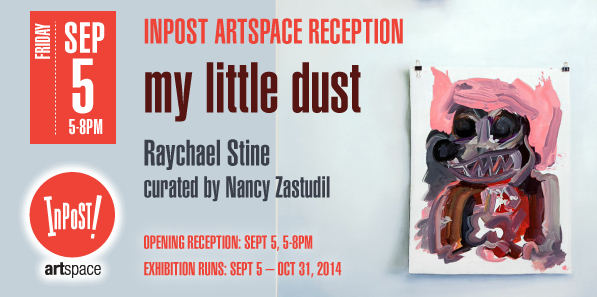 Inpost Artspace Reception | Friday, September 5, 5-8pm
"…a place where life, and love, is reaffirmed through the act of painting." – Arthur Peña, New American Paintings, Dallas Contributor.
Artist Raychael Stine and curator Nancy Zastudil present an exhibition of Stine's paintings that make visible—literally, picture—experiences, memories, and the passing of time. The selection of works translates the general appeal of Stine's personal commitment to specific things: paint and its possibilities as material and image, the physical intimate experience of looking at and making paintings, and relationships that are based on an exchange between looking and touching. Through her use of color, scale and proximity, Stine depicts her dedication to the 'thing' of painting—what it is to re-construct, not de-construct, an experience.
Raychael Stine received her MFA from the University of Illinois at Chicago in 2010 and is currently an Assistant Professor at the University of New Mexico. She has shown in California, Illinois and extensively throughout Texas including solo shows at Art Palace in Houston, TX and Eugene Binder in Marfa, TX. In 2009 Stine was a Joan Mitchell Foundation Award Nominee and in 2013 she participated in the Bemis Contemporary Arts Center Residency. In 2008 Stine was Jurors Pick in New American Paintings #78, Western Exhibition. http://raychaelstine.com
Nancy Zastudil is an arts administrator, writer, and itinerant curator whose current work focuses on social progress through philanthropy and entrepreneurship in the arts. Currently, Nancy is Administrative Director of the Frederick Hammersley Foundation, co-administrator of The Lightning Field, and monthly visual arts contributor to Arts and Culture Texas. Her most recent endeavors include Show Up Show Down, and in Summer 2014, she will open two art exhibition venues in downtown Albuquerque, NM: Pacific Exhibits (June 2014) and Central Features (Fall 2014).  She is Editor and Project Manager of the Mitchell Center's 10 year anniversary publication (forthcoming), Co-Editor of On the Banks of Bayou City: The Center for Land Use Interpretation in Houston (March 2009) and has been published in edible Santa Fe, Arts and Culture Texas, Dance Source Houston, Temporary Art Review, Artlies, and more. Nancy holds a Bachelor of Fine Arts in Painting and Drawing from The Ohio State University and a Master of Arts in Curatorial Practice from California College of the Arts. She was born and raised in Columbus, Ohio. http://www.thenecessarian.com/
Exhibition Dates: September 5 – October 31, 2014