BROUGHT TO YOU BY
The New Mexico Jazz Festival is a collaborative project of The Outpost Performance Space and The Lensic Performing Arts Center both 501(c)(3) non-profit organizations.
---
OUTPOST PERFORMANCE SPACE
Established in 1988, The Outpost Performance Space is Albuquerque's non-profit, member-supported, community-based Performing Arts Center. While presenting numerous concerts in larger venues, including those of the New Mexico Jazz Festival each July,
Outpost's home is at The Space— an intimate venue located at 210 Yale Blvd SE just down the street from the University of New Mexico. Outpost presents more than 100 concerts each year— jazz, experimental, folk & roots, spoken word, teen
performance nights and much more— plus classes for youth and adults. Outpost also host visual arts exhibits in the Inpost Artspace. The Outpost Performance Space is unique— intimate and elegant— and we invite you to come see us. For more information
go to www.outpostspace.org
---
The Lensic Performing Arts Center
The Lensic Performing Arts Center is Santa Fe's premier year-round performing arts center: a state-of-the art venue for theater, music, dance, film, lectures, community events and family programming set in a historic theater in the heart of the City
Different. The Lensic offers over 250 performances a year, technical apprenticeships in the performing arts, and free performances to over 20,000 local school children a year. The "Lensic Presents Series" reaches out beyond the traditional performing
arts to bring new and original works to Santa Fe. "Under Construction" an original, ongoing series showcases theater pieces under development. "Big Screen Classics" honors The Lensic's origins as a movie house by screening treasured movies from the
earliest silent films to the latest in high definition satellite broadcasting. "World Music Series" brings international musicians and artists from the Balkans and Bhutan to Egypt, Ireland, Ethiopia and Japan to The Lensic stage. For more information
go to www.lensic.org
---
The Santa Fe Jazz Foundation (Jazz Festival Partner Emeritus)
The Santa Fe Jazz Foundation was founded in 1990. Its mission is to help musicians in need and to financially support college jazz programs as well as other jazz organizations throughout the country. Traditionally, the Foundation has helped musicians
who are experiencing health problems and are without insurance or who are unable to work. Over the years, many musicians have been helped by the generous support of individuals through the Santa Fe Jazz Foundation. In additon to its philanthropic
work, the Santa Fe Jazz Foundation has presented hundreds of concerts in both Santa Fe and Albuquerque in venues ranging from the Santa Fe Opera to the St Francis Auditorium and The Hive.
---
NEW MEXICO JAZZ FESTIVAL PRESENTING PARTNERS
Santa Fe Bandstand/Outside In
Santa Fe Bandstand is a free summer festival on the Santa Fe Plaza Stage produced by Outside In, in collaboration with the City of Santa Fe and featuring the best music of this region including Latin, Blues, Rock, R&B, Native, World beat,
Country, Jazz, Swing, Reggae, Folk, Zydeco, Electronic, Hip Hop, Spoken Word, Classical, Dance etc. Santa Fe Bandstand 2008 will feature up to 80 performances from July 7th to August 21st. Monday through Thursday evenings 6 to 8:30 pm and every
Tuesday and Thursday afternoon from noon to 12:30pm. Outside In is a nonprofit, community-based group established in the spring of 1995, to bring free, live performances, presentations and workshops to people confined to shelters, residential
treatment facilities, nursing homes, correctional facilities, and any other institutions or human services programs where people would otherwise not have access to the arts. The Youth with Promise program presents free weekly guitar, dance, &
visual arts workshops to juvenile offenders in detention and on probation, to at-risk youth in shelters and residential treatment programs and other underserved youth in the community. For more information about Santa Fe Bandstand and Outside/In go
to
www.outsideinproductions.org/santafebandstand
---
NEW MEXICO JAZZ FESTIVAL VENUES
SANTA FE VENUES
The Lensic Performing Arts Center
211 West San Francisco St.
Santa Fe Plaza
West San Franciso St. and Lincoln Avenue
St John's College- Music on the Hill
Camino Cruz Blanca
SITE Santa Fe
1606 Paseo De Peralta
First Presbyterian Church of Santa Fe
208 Grant Ave
---
ALBUQUERQUE VENUES
The Outpost Performance Space
210 Yale Blvd. SE: 2 blocks south of Central
South Broadway Cultural Center
1025 Broadway Blvd SE
African American Performing Arts Center
310 San Pedro Dr. NE
Route 66 Summerfest
Central Ave. and side streets between Girard & Washington
Albuquerque Museum Amphitheater
2000 Mountain Rd. NW
New Mexico Jazz Festival Sponsorship Categories include Festival Sponsor, Concert Sponsor, Festival Friend and Festival Advertiser ranging from $1,500-$10,000 and up, and include benefits of tickets to concerts, logo recognition, ad
space and so on. The non-profit New Mexico Jazz Festival also gladly accepts tax-deductible donations from individuals and businesses.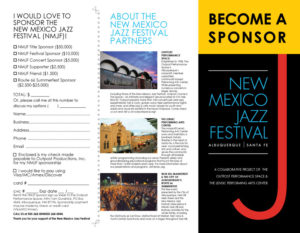 Click above image to view our sponsorship brochure. 
For more information contact New Mexico Jazz Festival Directors
Tom Guralnick at tguralnick@comcast.net or 505-268-0044 (Outpost Performance Space)
---
NEW MEXICO JAZZ FESTIVAL SPONSORS & FUNDERS
Albuquerque City Councilor Isaac Benton
Albuquerque City Councilor Pat Davis
City of Albuquerque–Mayor Tim Keller & The Cultural Services Department
Kaman Foundation
McCune Charitable Foundation
National Endowment for the Arts
La Cumbre Brewing Company
Thornburg Investment Management
---
NEW MEXICO JAZZ FESTIVAL SUPPORTERS
Albuquerque The Magazine
Annapurna's World Vegetarian Café
Eldorado Hotel & Spa
KUNM 89.9FM
KSFR 101.1FM
103.7 The Oasis
Sheraton Albuquerque Airport Hotel
Southwest Gastroenterology Associates
City of Albuquerque Urban Enhancement Trust Fund
Wells Fargo
Western Jazz Presenters Network
---
NEW MEXICO JAZZ FESTIVAL FRIENDS & INKIND CONTRIBUTORS
Alibi
Carey Southwest Limousine
Doubletree by Hilton
Don Mickey Designs/Printnm.com
Guerilla Graphix
Hotel Albuquerque Old Town
Hotel Santa Fe
Heritage Hotels
Michael Motley Studio
Nicholas Potter Bookseller
OGB Architectural Millwork
Santa Fe Audio Visual
Santa Fe Music Collective
Santa Fe New Mexican
Zephyr Design Inc/Judith Suiter
---
NEW MEXICO JAZZ FESTIVAL PRESENTING PARTNERS
City of Albuquerque Cultural Services Department
African American Performing Arts Center
First Presbyterian Church of Santa Fe
John Aaron Lewis Legacy Project
Melaza Music Productions
New Mexico Jazz Workshop
Nob Hill Main Street
Roots & Wires Presents
Santa Fe Bandstand & Outside In
St John's College— Music on the Hill
Santa Fe Music Collective
SITE Santa Fe
South Broadway Cultural Center
Taos Jazz Bebop Society
UNM College of Fine Arts
---
Call Outpost Executive Director, Tom Guralnick at 505-268-0044 for details on New Mexico Jazz Festival Sponsorship Opportunities.
Founded in 2006, the New Mexico Jazz Festival followed on the work of the Open Arts Foundation's Santa Fe Jazz and International Music Festival (2000-2005) which produced hundreds of concerts and brought an unprecedented wealth of high quality jazz
to Santa Fe. In 2006, our inaugural effort presented McCoy Tyner, Branford Marsalis, Jazz at Lincoln Center's Afro Latin Jazz Orchestra, the Newport Jazz Allstars, and more. In 2007 we expanded our efforts and presented more concerts in both cities
including performances by the legendary Sonny Rollins in Albuquerque and Santa Fe. We also inaugurated a partnership with the City of Albuquerque's Summerfest by offering 5 hours of music on Civic Plaza— an evening which was free and open to the
public and which was capped by a performance by Toumani Diabaté's Symmetric Orchestra. In 2010 that evening on Civic Plaza moved to Route 66 in Nob Hill and event which features 120 performers on 3 stages and draws 60,000 people. The New Mexico Jazz
Festival continues to grow and you can see the line-ups for all the years listed below.
---
PAST FESTIVAL LINE UPS
---
14th ANNUAL NEW MEXICO JAZZ FESTIVAL 2019 JULY 11- 28, 2019
STANLEY CLARKE
DAVE HOLLAND
KENNY BARRON
JOEY ALEXANDER
DAFNIS PRIETO
EDMAR CASTANEDA
DOUG LAWRENCE
NM JAZZ LATINO ORCHESTRA
FRANKIE VASQUEZ
HONEYHOUSE
LEYLA MCCALLA
MARCIA BALL
CHA WA
AARON DIEHL
WARREN WOLF
A.B. SPELLMAN
GEORGE SCHULLER
CHUY MARTINEZ & TRIO LOS TRINOS
FILM SCREENING— THE MODERN JAZZ QUARTET: FROM RESIDENCY TO LEGACY
ART EXHIBIT: EDGAR SORRELLS-ADEWALE
JOHN LEWIS LEGACY YOUTH JAZZ PROJECT
ROUTE 66 SUMMERFEST NM JAZZ FEST TENT
NM JAZZ FEST ON ABQ CIVIC PLAZA
---
 13th ANNUAL NEW MEXICO JAZZ FESTIVAL 2018. 

JULY 11- 30, 2018
John Lewis Youth Clinics and Concert
Tootie Heath Trio
Spanish Harlem Orchestra
Eric Bibb
Inpost Artspace Jazz Art Reception: Musicians Making Art
Ranky Tanky
Irma Thomas, Ranky Tanky + 15 local bands on 4 stages Route 66 Summerfest
Dave Grusin Film Screening & Performance
Albuquerque Jazz Orchestra featuring Hillary Smith/John Maestas & Hakim Be
Charles McPherson Quartet
AB Spellman
NEA Jazz Master Dee Dee Bridgewater
Chucho Valdés & Gonzalo Rubalcaba
Alicia Hall Moran & Jason Moran: Black Wall Street
---
12TH ANNUAL NEW MEXICO JAZZ FESTIVAL | July 13-August 5, 2017
Pat Martino Trio
Dexter Gordon Tribute Project: Doug Lawrence with NEA Jazz Master Jimmy Cobb Trio
Inpost Artspace Reception: Prints by Reginald Gammon
Dexter Gordon Round Midnight Tribute Project: Round Midnight 30th Anniversary Film Screening
Jane Bunnett & Maqueque
Summerfest: Los Lobos + 17 Acts on 3 Stages
César Bauvallet's Cuban Jazz Project
Davina & the Vagabonds + Banda Atómica
John Lewis Youth Piano Competition
Ambrose Akinmusire Youth Concert
Ambrose Akinmusire Quartet
Buika
NEA Jazz Master Pharoah Sanders
A.B. Spellman
Ravi Coltrane Quartet
René Marie
---
11TH ANNUAL NEW MEXICO JAZZ FESTIVAL | July 14-31, 2016
NEA Jazz Master Charles Lloyd
NEA Jazz Master Dave Holland
Chris Potter
Lisa Fischer
Nea Jazz Master Dr. Lonnie Smith
Booker T Jones Soul & Blues Review
Pedrito Martinez
Django Festival Allstars
Nikki Hill
Ginkgoa
Mark Weaver
Neospectric
Revoso
Douglas Cardwell
Albuquerque Jazz Orchestra
Hillary Smith
Route 66 Summerfest
A.B. Spellman
---
10TH ANNUAL NEW MEXICO JAZZ FESTIVAL | July 10-August 6, 2015
The Legendary Count Basie Orchestra
Esperanza Spalding
Kenny Barron Trio featuring Stefon Harris
Christian McBride Trio
Marc Cary Focus Trio- Rhodes Ahead
René Marie
Vinicius Cantuaria
The Klezmatics
Lavay Smith & Her Red Hot Skillet Lickers
Roomful of Blues
Route 66 Summerfest
Doug Lawrence New Organ Trio
Leni Stern African Quartet
John Trentacosta & Friends
Jazz Brunches
Cathryn McGill
Cal Haines' Flora Purim Project
---
9TH ANNUAL NEW MEXICO JAZZ FESTIVAL | July 11-27, 2014
Claudia Villela
Cedric Watson
Wagogo
Paintings by Jeff Stipe & Greg Tucker
Film Screening: Bayou Maharajah- The Tragic Genius of James Booker
Tootie Heath, Ethan Iverson & Ben Street
Henry Butler, Steven Bernstein & the Hot 9
Arrested Development | Raul Midon & 20 Acts On 3 Stages
Jazz Brunches
Bumblebee's Jazz All Stars w. Dick Hyman, Bucky Pizzarelli, Jimmy Greene, Randy Sandke, Jay Leonhardt, Lewis Nash
Omar Sosa
Cal Haines 5
Terri Lyne Carrington's Mosaic Project
A.B. Spellman With Nea Jazz Master Jack DeJohnette
Jack DeJohnette, Ravi Coltrane, Matt Carrison Trio
Jazz & Poetry w. A.B. Spellman, Jessica Helen Lopez, Damien Flores, Carlos Contreras, V.B. Price, Lauren Camp and Don McIver; plus musicians, Asher Barreras, Kanoa Kaluhiwa, John Rangel and Diego Arencon
---
8TH ANNUAL NEW MEXICO JAZZ FESTIVAL | July 12-28, 2013
Trio Da Paz
Catherine Russell
Dan Dowling-john Griffin Duo
Jazz Photos By Mark Weber
Film Screening: The Legend Of Bop City
Arlen Asher & Straight Up
Yellowjackets
Red Baraat | The Relatives & 20 Acts On 3 Stages
Jazz Brunches
Stanley Clarke Band
Larry Mitchell
Mil-tones Brass Band
Lionel Loueke Trio
Terence Blanchard
Lionel Loueke
A.B. Spellman With Nea Jazz Master Eddie Palmieri
Eddie Palmieri Latin Jazz Band
Tom Mcdermott
---
7TH ANNUAL NEW MEXICO JAZZ FESTIVAL | JULY 2012
Stephane Wrembel
Leni Stern
Doug Lawrence
Regina Carter
Dirty Dozen Brass Band
Allen Toussaint
Ravi Coltrane
Dianne Reeves
Sheila Jordan
Jon Hendricks
Photos by Paul Slaughter & jim Gale
Hakim Bellamy
A.B. Spellman
---
6TH ANNUAL NEW MEXICO JAZZ FESTIVAL | JULY 19–31, 2011
Mose Allison
Patti Littlefield & Main Stem
Michael Anthony
Dee Dee Bridgewater
Maceo Parker
Preservation Hall Jazz Band
Christian McBride & Inside Straight
John Pizzarelli w. special guests Jessica Molaskey & Buccky Pizzarelli
Randy Weston African Rhythms Quintet
Hallelujah!: A Film by Steven Feld about Ghandaba
---
5TH ANNUAL NEW MEXICO JAZZ FESTIVAL | JULY 13–25, 2010
STEPOLOGY's "Tap On!"
Doug Lawrence Quartet featuring Jimmy Cobb
Simone + Somi
The Jazz Loft Project
Bitches Brew Revisited: with Cindy Blackman, James Blood Ulmer,DJ Logic, Marco Benevento, Graham Haynes, Antoine Roney, Lonnie Plaxico & Adam Rudolph
Miguel Zenón Quintet
Los Pleneros de la 21
NEA Jazz Master Toshiko Akiyoshi Quartet featuring Lew Tabackin & Albuquerque Jazz Orchestra led by Bobby Shew
---
4TH ANNUAL NEW MEXICO JAZZ FESTIVAL | July 14-26, 2009
Dirty Dozen Brass Band
NEA Jazz Master Jimmy Heath & the Generations Band
Kurt Elling
Mingus Dynasty
Dave & Don Grusin Quartet
Marco Benevento Trio
Matt Brewer Quartet w/ Aaron Parks
---
3RD ANNUAL NEW MEXICO JAZZ FESTIVAL | July 17-28, 2008
Pharoah Sanders
Allen Toussaint
Kenny Garrett
Habib Koité
Cassandra Wilson
Paquito D'Rivera
Preservation Hall Jazz Band
Bert Dalton
Chris Calloway
Straight Up
Arlen Asher
Tetragon
---
2ND ANNUAL NEW MEXICO JAZZ FESTIVAL | July 19-29, 2007
Sonny Rollins Quintet
Dianne Reeves Trio
John Pizzarelli Quartet
Toumani Diabaté's Symmetric Orchestra
Michel Camilo Trio
Richard Bona Group
Bobby Shew Quintet with Gary Foster
Eddie Daniels Quintet
Mighty Clouds of Joy
Le Chat Lunatique
Kanoa Kaluhiwa Afro-Latin Esemble
Stu MacAskie's Sidewinders with Cathryn McGill
Albuquerque African Ensemble
Wagogo
Ben Martinez Project
Outpost Youth Jazz Ensemble directed by David Parlato
---
INAUGURAL NEW MEXICO JAZZ FESTIVAL | July 20-29, 2006
Branford Marsalis Quartet
Jazz at Lincoln Center's Afro Latin Jazz Orchestra led by Arturo O'Farrill
McCoy Tyner Septet
Newport Jazz Allstars Tribute with Frank Wess, Lew Tabackin, Kenny Davern, Randy Sandke, Cedar Walton, Peter Washington, Kenny Washington & Howard Alden
Doug Lawrence Quartet
Henry Butler
Los Hombres Calientes
Steve Figueroa Trio
Tetragon
Patti Littlefield Quintet
Outpost Performance Space
PO Box 4543 Albuquerque, NM 87196 505.268.0044 www.outpostspace.org
---
The Lensic, Santa Fe's Performing Arts Center
211 West San Francisco St. Santa Fe, NM 87501 505.988.7050 www.lensic.org
---
UPCOMING 2023
As always, we will present New Mexico Jazz Festival events throughout the regular season, in partnership with the Lensic Performing Arts Center.
---
Scenes from the 14th Annual New Mexico Jazz Festival 2019