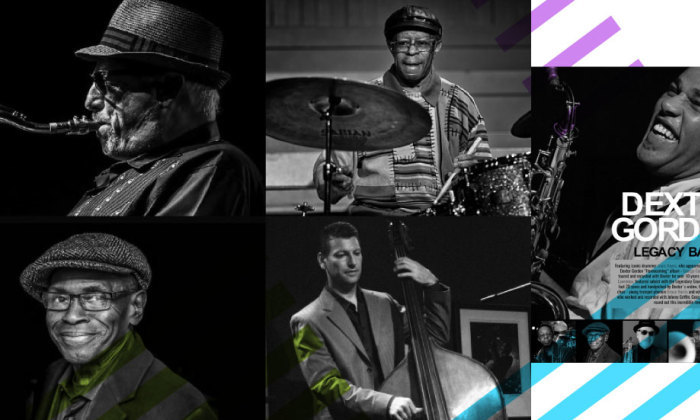 Dexter Gordon Legacy Quartet with Doug Lawrence, Louis Hayes, George Cables & John Webber
sponsored in memory of Marsha Ogilvie
Friday November 22, 07:30 pm - 09:30 pm
Time: 07:30 Doors: 07:00 Ages: All Ages Tickets: $25 - $30
Outpost Performance Space
210 Yale SE - Albuquerque NM
Buy Tickets
---
Jazz historian Maxine Gordon, the widow of tenor saxophone legend Dexter Gordon, has put together a quartet of musicians who are both directly and indirectly linked to the iconic tenor saxophonist. In many ways, this current quartet has come full circle from the late 1970's (now some 40 years later), when Gordon had returned to the US (he played the KiMo in 1979) after living in Europe for 14 years and each of these musicians entered the "Dexter story." Drummer Louis Hayes' prolific career includes appearances on some of the most historic recordings in jazz history with artists including Lester Young, Horace Silver, Nancy Wilson, John Coltrane, Oscar Peterson, and Wes Montgomery. His connection with Gordon comes not only from performing and recording with him, but also from the early days of working with Gordon's hero, Lester Young. Pianist George Cables, one of the most respected pianists in the history of jazz, also entered the Dexter Gordon story in the late 1970's when he became a member of Gordon's Quartet with bassist Rufus Reid and drummer Eddie Gladden. Cables "brilliant and original" piano playing formed the cornerstone of that group. Renowned as the featured tenor saxophonist with the legendary Count Basie Orchestra for the past 20+ years, Doug Lawrence first met Gordon in 1978 when he went to hear his idol perform at The Joyous Lake Club in Woodstock, NY. Soon thereafter, Lawrence began working with the great Buck Clayton–another of Gordon's favorite musicians. Clayton told the New York Times that Lawrence reminded him of Lester Young. Both Clayton and Young were the foundation of the first Count Basie Orchestra, a band that Gordon loved, and for which Lawrence was offered the coveted "Lester Young" chair. Doug Lawrence and George Cables have a 25-year working relationship, but haven't appeared together in New Mexico since their famous tour of the state in 1997.  Described as the "tenor players' bassist," John Webber played regularly with Junior Cook, Von Freeman, Lin Halliday, Frank Wess, Eric Alexander and George Coleman, as well as with Dexter Gordon's longtime friend and associate, Johnny Griffin, (who was also, incidentally, a big Doug Lawrence fan, once describing Lawrence on live radio in NYC as one of the very few young tenor players he liked). Webber has also recorded and performed with Hank Jones, Tommy Flanagan, Harold Mabern, Eddie Henderson, and Jimmy Cobb, among others and was part of the 1997 New Mexico tour with Cables and Lawrence.
The Dexter Gordon Legacy Quartet will conduct an Open Rehearsal/Master Class at Outpost on Wednesday, November 20, 4-5:30pm. FREE! This event is sponsored by Alice Haddix.
The Dexter Gordon Legacy Quartet. will perform in Taos for the Taos Jazz Bebop Society on Thursday, November 21 and at SITE Santa Fe for the Santa Fe Music Collective on Friday, Saturday November 23 at 7:30pm. Info at santafemusiccollective.org.
This concert is made possible through support from the Western States Arts Federation (WESTAF); the National Endowment for the Arts; and New Mexico Arts, a division of the Office of Cultural Affairs.
---