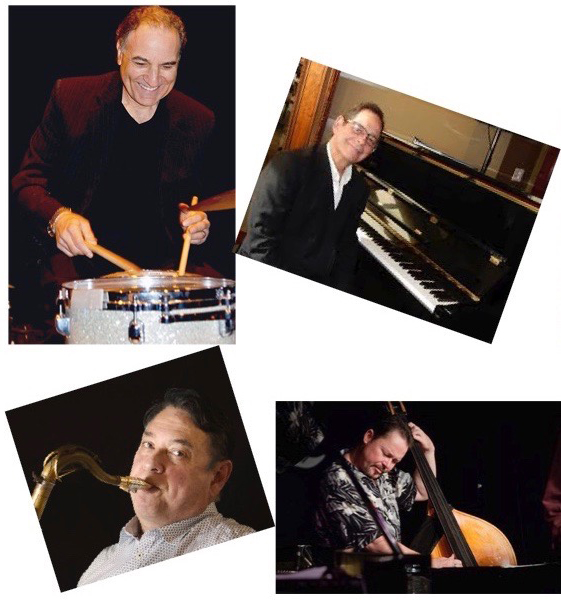 Live From the Outpost Stage
The Santa Fe Music Collective Legacy Band
Virtual Concert Event Recorded Live at the Outpost Performance Space, April 18, 2021
Presented in partnership with the Santa Fe Music Collective
Available for viewing HERE June 17-July 15, 2021
This video was produced by Reinhard Lorenz, First Eye Films; Tom Guralnick, Outpost Performance Space; John Trentacosta, Santa Fe Music Collective; and Andres Martinez, Audio Engineer
This event is made possible with funding from The City of Albuquerque—Mayor Tim Keller, Arts & Culture Department under the direction of Shelle Sanchez, and the ABQ City Council; the National Endowment for the Arts; the Doris Duke Charitable Foundation; the Kaman Foundation; the McCune Charitable Foundation; the NM State Legislature; Governor Michelle Lujan Grisham, and more.
Ticket Information: $0-$50. When you purchase your ticket, you will receive a confirmation email from HoldMyTicket that includes the link to the video, which will go live on June 17 at 6pm.
Outpost, in partnership with the Santa Fe Music Collective, is pleased to present another virtual concert event – Live From The Outpost Stage featuring the Santa Fe Music Collective Legacy Band. Recorded live at the Outpost Performance Space on April 18, 2021, the SFMC Legacy Band performed a full hour concert, with three of their tunes featured in the Arlen Asher 92nd Birthday Tribute, which aired in May 2021. The full concert by the Legacy Band, which comprises four of Northern New Mexico's finest jazz musicians – Alex Murzyn, woodwinds; Terry Burns, bass; Bob Fox, piano; and John Trentacosta, drums, features a total of nine tunes, including three original compositions from members of the quartet. 
The Santa Fe Music Collective was established in 2013 with a mission of promoting live jazz in Northern New Mexico, presenting a mix of local, regional and traveling national jazz artists. In 2014, The Santa Fe Music Collective, under the direction of John Trentacosta, became a  501(c)3 nonprofit organization and eight concerts were presented in Santa Fe. To date, the SFMC has presented over 150 concerts at four different venues including several presented in partnership with The New Mexico Jazz Festival and Outpost Productions. In 2019, one of the original goals of The Collective was finally realized when it established its residency band – the Santa Fe Music Collective Legacy Band – who could play a wide range of jazz styles and serve as an accompanying rhythm section for touring artists, while at the same time presenting concerts tracing the history of our great American art form. A co-operative of musicians who love to play with each other, drummer John Trentacosta notes that an unexpected by-product of the band is a 4" thick catalog of well rehearsed music, including a large body of original music from its band members. 
About the Band:
Saxophonist Alex Murzyn relocated to Santa Fe in 2018 after a long and distinguished musical career in Honolulu and San Francisco. His versatility has enabled him to perform with many major artists across a wide spectrum of music including, in jazz, Freddie Hubbard, Dizzy Gillespie and Stanley Clarke. He has also toured and performed with Pete Escovedo, Sheila E, Sammy Davis Jr. and Huey Lewis and the News. In Santa Fe, Alex performs with the Santa Fe Jazz Collective, Bobby Shew, The Three Faces of Jazz, Long Shot Trio and the Ron Crowder Band. He also leads his own jazz groups.
A New Mexico native, Terry Burns recently returned to his home state after many years. He grew up in Clovis, NM, after which he relocated to Omaha, New York, Los Angeles, and Minneapolis, where he spent 20 years as a teacher and administrator in higher education. A student of Rufus Reid in New York and Bob Magnesson in Los Angeles, he has played with everyone from Gene Harris, Dewey Redman, Lee Konitz, Marlena Shaw, Jane Monheit and Freddy Hubbard to Billy Hart, Art Farmer, Joanne Brakeen, Victor Lewis, and many others. He has released four recordings as a leader and performed on many others, and since returning to New Mexico, has released a solo recording and a trio project with Cal Haines and Alex Murzyn. He also recently recorded with Doug Lawrence in Albuquerque.
Pianist and composer Bob Fox, who was born and raised in Buffalo, NY, has been a resident of Santa Fe, NM since 1993. He earned degrees in Jazz Piano Performance from Berklee College of Music in Boston and from the University of Miami and had a long tenure accompanying Stanley Turrentine. Fox has played with Ira Sullivan, Eddie Harris, James Moody, Eddie Daniels, and many others and was the original pianist and music director for two CDs by John Trentacosta's Santa Fe based jazz band, Straight Up – Live Jazz in the Desert (1996) with Arlen Asher, John Belzaguy, and Michael Morreale and No Need for Words (2002) also featuring Asher, Morreale and Trentacosta as well as bassist David Parlato. In 2003, Fox composed three arrangements and performed on Asher's CD, Another Spring for which he was awarded two New Mexico Music Awards. 
A native New Yorker (Staten Island, to be exact), drummer John Trentacosta brought his collective big band and small group experience to New Mexico in 1992 after two decades as the rhythm force behind jazz notables Chuck Wayne, Jimmy Knepper, and the Al Porcino big band. He received his formal music education at New York University and was an Assistant Arts Director for The Staten Island Chamber Music Players, from 1978–1992. In 1993, he formed the jazz group Straight Up, and for nearly two decades was the driving force behind the group's busy schedule and two CDs (Live Jazz in The Desert and No Need For Words), receiving a MIC award in 2003 for best producer of the latter. Trentacosta has been in demand as part of the rhythm team for concerts with saxophone legend James Moody, vocalist Teri Thornton, Doug Lawrence and 1996 Thelonious Monk saxophone competition winner Jon Gordon.  He also has performed with Eddie Daniels and The Santa Fe Symphony, Frank Morgan, Joshua Breakstone, Roger Kellaway, Nick Brignola, Lee Konitz, Bud Shank, and Kenny Davern. A jazz host for KSFR Public Radio for many years where he collaborated with Arlen Asher, he became the founding director of The Santa Fe Music Collective, the premier jazz presenters organization in Santa Fe.