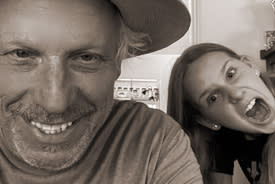 ONLINE CLASS: Jazz (and more) Meets TikTok For Youth!!
Saturday August 01, 11:00 am - 12:15 pm
Time: 11:00 Doors: 11:00 Ages: All Ages Tickets: $12
Outpost Performance Space
210 Yale SE - Albuquerque NM
Buy Tickets
---
Saturdays, July 11-August 1 (4 weeks) 11am-12:15pm (via Zoom)
Jazz (and more) Meets TikTok For Youth!! 
Taught by Doug Lawrence. Assisted by Lyla Lawrence 
$3 per class. $12 Total Course Fee. Scholarships readily available (If scholarship is needed ,email Outpost Director, Tom Guralnick at tguralnick@comcast.net
Involving young musicians with social media by combining the latest in technology with Doug's "old school" playing knowledge, this course will utilize the TikTok social media platform to re-mix and re-record versions of Doug's music as well as music the students choose. Each class will include lessons in everything from creating a good tone on your instrument, improvisational skills, how to relate to your audience, and how to always have fun when creating your music. Doug's daughter, Lyla (who plays clarinet, sings and dances) will help moderate each class. At the first class, everyone will have an opportunity to introduce themselves, ask questions, and Doug can review the first composition. Then, it's up to you! You can create your own TikTok, or Duet our TikTok videos with your own audio and video or a combination; reactions, critical listening, your own solo improvisation, or just jamming along with Doug are all welcome options! (Beware: Doug and Lyla will Duet you right back!) Doug will give your song a shot on the Outpost TikTok, so stay tuned to that account and then you get to re-mix Doug's re-mix until its ready for sound bite heaven. Don't forget to tag us! Listen, Laugh, Review and Repeat until we have the summer blues on the run and we've run out of songs. Be a part of Jazz on TikTok! If you are interested in participating, please send us an email expressing your interest at outpostspace@gmail.com. We will share invitations to our Zoom sessions, sheet music, and Outpost's private TikTok youth education account! So looking forward to creating with you!

---