HEY EVERYONE! WE MISS YOU!
We've been working hard to develop an online program for our classes this summer and there are so many things to consider! After much discussion, we realized that we can't recreate the live experience, but we want to keep the wonderful group of participants together to enjoy each other and to learn from our incredibly talented faculty, so below is the program we've come up with.
Because we know there will be some technical challenges and because we want to encourage people to take multiple classes, the fees are about half of what they are for the in-person classes. Basically, courses are $6.50/$6.00 members per class so that a ten-week course will be $65/$60 Members; and an 8 week course will be $52/$48 members, and so on. The highly preferred payment method will be by sending a check to Outpost at PO Box 4543, Albuquerque, NM 87196-4543. If this is not possible, please call Outpost at 505-268-0044, leave a message and we will get back to you to get your credit card information.
We scheduled classes on different nights so that you may avail yourselves of different opportunities and we also made an effort to avoid conflicts with NM Jazz Workshop classes which are ongoing at present (www.nmjazz.org).
ONLINE COURSE SCHEDULE & DESCRIPTIONS: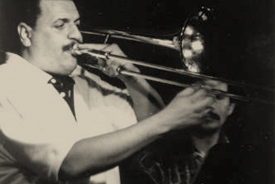 Mondays, June 22-August 24 (10 weeks)— 6-7:30pm (Via Zoom)
Chord progressions, improvisation and Latin rhythms (Level I)
Taught by César Bauvallet
Course Fee: $65/$60 Members
THIS CLASS IS FULL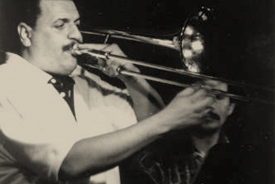 Mondays, June 22-August 24 (10 weeks)— 7:30-9pm (Via Zoom)
Chord progressions, improvisation and Latin rhythms (Level II)
Taught by César Bauvallet
Course Fee: $65/$60 Members
THIS CLASS IS ALMOST FULL. THERE MAY BE ROOM FOR ONE OR TWO MORE. TO SEE WHAT THE OPTIONS ARE, PLEASE EMAIL César Bauvallet: cesmus32_1960@swcp.com
César Bauvallet will be teaching an online version of his Mojito Nights/Tequila Triads courses. Both classes will cover similar material (chord progressions, improvisation and Latin rhythms — blues, 2-5-1, & rhythm changes (forms); rhythmic exercises, improvisation lines (riffs) and more). The early class is designed for students at the intermediate to more advanced level while the late class is for intermediate level students. Given the technical issues with ensemble playing online, these classes will be different and César outlined what he will offer in these online classes:
– Create and distribute "Music Minus One" mp3 files to everyone in the class to play along with when the class gets together online
– Work with the group on improvisation: students will play one at a time with everyone listening and learning in the same way as is done in the live class— using constructive criticism to ensure a safe and positive environment
– Brush up on theory and reading skills (we all need to be able to easily play over chord changes while improvising)
– Provide the class with improvisation lines and ideas that can be taken back to the practice room and brought back to the online group class for feedback
– Answer questions (but as he puts it, "only if he knows the answers") that you can bring to the class based on your needs
Students will need the following:
– An internet connection; speakers attached to your computer to play the files when you are playing;
– a computer with a microphone and a camera;
– the need to make music to be happy;
– your instrument;
– a positive attitude;
– and as César puts it "a little patience to deal with your teacher" (and Outpost will add- "patience to be willing to deal with the technical issues which will undoubtedly arise")
---
Tuesdays June 23-August 10 (8 weeks) 6-7:30pm (or perhaps a bit shorter) (Via Zoom)
"Plateau Busters" Troubleshooting Workshop/Master Class
Taught by Jim Ahrend
Course Fee: $52/$48 Members
THIS CLASS IS FULL
Pianist Jim Ahrend is offering what he describes as a "general troubleshooting class"; a kind of plateau break-through workshop for anyone who feels they might be up against a wall— anything that you feel may be holding you back from getting where you want to be musically. This class concept would be inclusive of anyone and everyone. Master classes can be a huge benefit because we all have "common" issues and blockages from time to time. This could be a very productive use of some class time and could only enhance our ensemble experience down the road, whenever that may become possible once again." Jim's classes have always been a time of support and camaraderie and we have no doubt that this will be the case with these online troubleshooting classes as well!
---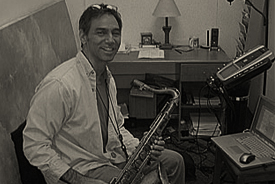 Wednesdays, June 24- August 3 (7 weeks) 6-7pm (Via Skype)
Music Basics with Kanoa
Taught by Kanoa Kaluhiwa
Course Fee: $45.50/$42 Members
THIS CLASS IS FULL
This class will focus on music basics, taught in Kanoa's own unique way, which he has developed over years of teaching and performing. Including looking at triads and how to construct and use them with other methods for soloing. Other methods will explore modes/scales (e.g. dorian & aeolian) as well as the basics of harmony and ear training—learning songs and solos by ear, then writing them down.
---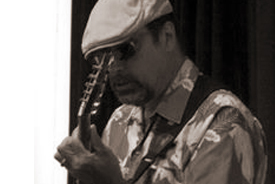 Thursdays, July 9-August 27 (8 weeks) 6-7pm (via Zoom)
Improvising the Blues on Guitar (for Guitarists only)
Taught by Dimi Disanti
Course Fee: $52/$48 Members
This online course for guitarists will be taught by Dimian DiSanti who has been a fixture in the New Mexico Music scene for over 40 years. The course will cover traditional Blues forms, feels and rhythms, with special emphasis on the harmonic intricacies of improvising over blues chord progressions (Hint: it ain't just the pentatonic "Blues" scale!) the class will explore together while learning some enduring blues classics by artists who have built and preserved this great art form. Materials will be distributed in advance via emailed files.
---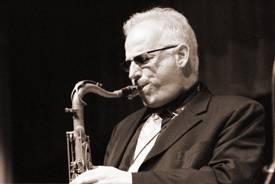 Saturdays, July 11-August 15 (6 weeks) 2-3:15pm (via Zoom)
Master Class Series hosted by Doug Lawrence
Featuring Chris Buckholz, trombone; Doug Lawrence, saxophone; Christine Fawson, trumpet; Arnaldo Acosta, drums; Steve Figueroa, piano; Milo Jaramillo, bass.
Course Fee: $39/$36 Members
Count Basie Orchestra's lead tenor saxophonist, Doug Lawrence, will moderate this series, which features some of the great jazz instrumentalists living in our community. Designed for musicians of all levels and non-musicians alike, these experts will discuss their approach to their instruments, how they got to where they are, where they want to go, the role of their instrument in jazz (and other musics), other great players of their instruments, and more. Time will be left for Q&A at each session. The artists featured are Chris Buckholz, trombone (7/11); Doug Lawrence, saxophone (7/18); Christine Fawson, trumpet (7/25); Arnaldo Acosta, drums (8/1); Steve Figueroa, piano (8/8); and Milo Jaramillo, bass (8/15).


Chris Buckholz, trombone (7/11),
Doug Lawrence, saxophone(7/18),
Christine Fawson, trumpet (7/25),
Arnaldo
Acosta, drums (8/1),
Steve Figueroa, piano (8/8),
Milo Jaramillo, bass (8/15)
---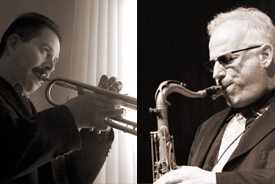 Sundays, July 12-July 26 (3 weeks) 2-3:15pm (via Zoom)
Central (Route 66, Albuquerque) to Carnegie Hall: Doug Lawrence's Life In Jazz
Hosted by Steve Figueroa
Course Fee: $19.50/$18 Members
Hosted by pianist Steve Figueroa, this course will give Paul and Doug (two Albuquerque natives) a chance to talk about Doug Lawrence's illustrious career and experiences— from his early years growing up in Albuquerque's "war zone," as it used to be called (Rhode Island Street and Central Ave) all the way through his 45 year career working with some of the most iconic musicians in jazz and popular music. The series will delve into Doug's complete life as a musician and how he has managed to stay relevant throughout his career. Each class will leave room for a Q & A.
---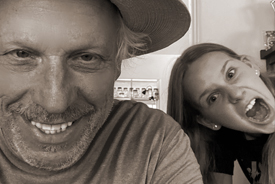 Saturdays, July 11-August 1 (4 weeks) 11am-12:15pm (via Zoom)
Jazz (and more) Meets TikTok For Youth!!
Taught by Doug Lawrence. Assisted by Lyla Lawrence
$3 per class. $12 Total Course Fee. Scholarships readily available (If scholarship is needed, email Outpost Director, Tom Guralnick at tguralnick@comcast.net
Involving young musicians with social media by combining the latest in technology with Doug's "old school" playing knowledge, this course will utilize the TikTok social media platform to re-mix and re-record versions of Doug's music as well as music the students choose. Each class will include lessons in everything from creating a good tone on your instrument, improvisational skills, how to relate to your audience, and how to always have fun when creating your music. Doug will be assisted by his 13 year old daughter, Lyla. who is going into the 8th grade at Jefferson Middle School. She plays clarinet in the Concert Band, is the captain on the Jefferson Jets Girls Volleyball Team and won 1st place in the Sundance NM State Championships with the butterfly stroke for her swim team, the TCA Torpedos.. At the first class, everyone will have an opportunity to introduce themselves, ask questions, and Doug can review the first composition. Then, it's up to you! You can create your own TikTok, or Duet our TikTok videos with your own audio and video or a combination; reactions, critical listening, your own solo improvisation, or just jamming along with Doug are all welcome options! (Beware: Doug and Lyla will Duet you right back!) Doug will give your song a shot on the Outpost TikTok, so stay tuned to that account and then you get to re-mix Doug's re-mix until its ready for sound bite heaven. Don't forget to tag us! Listen, Laugh, Review and Repeat until we have the summer blues on the run and we've run out of songs. Be a part of Jazz on TikTok! If you are interested in participating, please send us an email expressing your interest at outpostspace@gmail.com. We will share invitations to our Zoom sessions, sheet music, and Outpost's private TikTok youth education account! So looking forward to creating with you!
You can Donate to Outpost to support these educational offerings and more. Simply Click HERE.